Edinburgh festival 2011: The highs and lows
Comedians stripped off or fell silent, theatre got lost in gadgetry, and a bassoonist was arrested … Brian Logan and Lyn Gardner give out their Edinburgh festival round-up awards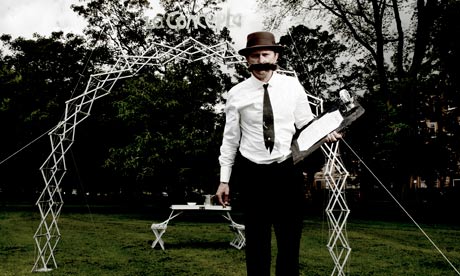 This year's comedy festival looked like an open field as the fringe began, and it stayed that way. There were few superstars, but lots of fine shows. Comedy found itself
challenged in the first week to respond to the riots sweeping England
. (That's why it's a great artform: people expect it to be urgent, reactive and communicative.) Plenty 0f standups answered the call; two of the fringe's most political comedy sets – Andrew Maxwell's and Josie Long's – were
nominated for the Edinburgh Comedy award
. But silliness reigned. The buzz shows were Nick Helm and
Adam Riches
's raucous participative floorshows, suggesting an appetite among 2011 audiences for event-comedy that bashes them around the head and forces them to muck in.
The silent comedy award
A decent year for nu-vaudeville was marked by a Comedy award nomination for unknown New York duo
Chris and Paul
, who found themselves compared to Stan and Ollie as critics belatedly circled their off-the-beaten-track show. Other hit silent(ish) comedies included award-winning Aussie show
The Hermitude of Angus
, Ecstatic, and, best of all, a blissful set from that flirtatious clown
Doctor Brown
. His set, combining subtle and skilled physical comedy with smouldering sexiness and a will to chaos, was one of the funniest in town.